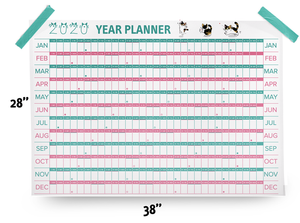 This special edition wall calendar cleanly displays an entire year at a glance, and purrfectly fits our planner stickers, and has a few cute kitties at the top. These were specially printed for the A Cat's Guide to Money kickstarter campaign, but just a few are leftovers.
Great for tracking income, savings, debt payoff, or any other life goals! Includes the lunar phases and US quarterly tax deadlines just so you don't forget. All calendars have January 2020 start date. Will ship folded. 
Offset printed in the USA by a union printer.
36" x 24" total size.